City rally Gießen
4. October um 15:00

-

20:00
Hello dear freshmen,
Scavenger hunt was yesterday, city rally is today. You've just moved to town and you don't know where the kebab triangle or the elephant loo is? Or you are an old hand and already really know all the hidden details? Then you've come to the right place! Discover Giessen like never before – dive into our exciting city rally! Experience hidden treasures and the vibrant culture of our city as you solve tricky puzzles. Get ready for an adventure that combines knowledge and fun. With lots of fun and games you will get to know Gießen and your new friends.
This semester's city rally will be held on Wednesday 04/10/2013.
Meeting point will be at the parking lot at C-Campus between C13 and C11 starting at 3:00 pm.
Rally starts are between 3:00pm and 5:00pm (feel free to be there at 3:00pm, after 5:00pm only for departments with later events).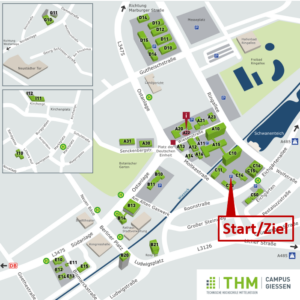 As soon as you start, you will be divided into groups, you will be given your walk sheet (if you don't already have it with you).
During the afternoon, you will complete various tasks at student organizations and get to know the city.
End is between 18:00 and 20:00 again where you started. It does not require registration!
The award ceremony will take place on Friday 06.10.23 before the pub crawl.
If you have any questions, please get in touch via the city rally Instagram channel @erstigamesgiessen.
This is noted on the routing slip. You can download the route sheet here shortly before the city rally.